CANONSBURG, Pa., June 2, 2014 /PRNewswire/ -- Rice Energy Inc. (NYSE: RICE) today reported that it has successfully tested the company's first Utica Shale well in central Belmont County, Ohio. In addition, Rice has strategically added to its firm transportation portfolio, providing increased market access for its growing production profile. Finally, Rice's borrowing base under its revolving credit facility was increased to $385.0 million.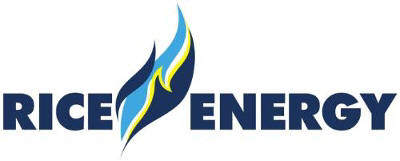 Bigfoot 9H Production Test
We are pleased to announce the production test results of our first operated Utica Shale well, the Bigfoot 9H. After five days of flowback, the Bigfoot 9H stabilized at a rate of 41.69 MMcf/d of gas on a 33/64" choke with flowing casing pressures of 5850 psi. Based upon a gas composition analysis, the heat content is 1086 Btu and therefore will not require processing. We own an approximate 93% working interest in the well, which has an effective lateral length of 6,957 feet and was completed with a 40-stage frac. We anticipate first production by early July and will produce the well into sales through our restricted choke program.
Toby Rice, Chief Operating Officer, commented, "This Bigfoot test is a significant step towards validating the production potential of the Utica Shale in central Belmont County, where we control more than 46,000 net acres. We are especially pleased to deliver these strong results to the landowners of Belmont County, who have believed in us from the beginning. Our 2014 Ohio program is off to a great start, and we look forward to continuing our methodical development of this world-class asset."